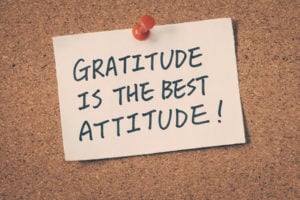 I am convinced that life is 10% what happens to me and 90% how I react to it. And so it is with you...we are in charge of our attitudes." - Charles Swindoll
As I celebrated my 50th birthday recently, something that struck me was how grateful I was for all the good things I had in my life: friends, family and growing business opportunities.
This attitude is something all successful people have in common - and it's something I see play out in the franchise world, as well. After all, it's franchise systems that have, by nature, a culture of connectedness, teamwork and positivity that continue to grow and make money. And because the positive culture is so strong, negative people simply don't last.
This "attitude of gratitude" has served me well over the years; and if it's not something you regularly practice, I encourage you to give it a try, too. Here's an exercise to help you get started: The next time you're feeling angry, focus instead on something in your life you're grateful for. What you'll find, is that it's impossible to feel anger and gratefulness at the same time. Simply put: if you remember to be grateful for what you have, you'll always win.