Recently, in May 2021, I had the pleasure of attending the 2021 Big Frog Conference in Orlando, Florida. This was my 1st in-person conference since the COVID pandemic hit in March of 2020 and it was great to get back out there again! After more than a year of being stuck online, the in-person connections with handshakes and hugs were welcome.
I've been involved with the Big Frog brand since 2014 when I helped establish their board of advisors. Since then, I've attended their conferences a few times and have gotten to know some of their franchisees. It was great to reconnect with these store owners, as well as meet those who are new to the brand. As an advisory board member, I think it's always good for me to attend these events when I can, as it provides opportunities for me to deepen my understanding and relationships with the brand. In addition, my attendance shows the franchisees that there are real people working behind the scenes to help the business and make it as successful as possible.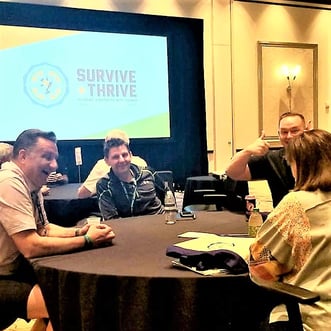 While I've served as a speaker and panelist at their conference before, this year we decided to try something different and held open roundtable topics, instead. Each of the advisory board members in attendance (there were three of us) was responsible for leading a topic-based roundtable that provided franchisees a way to ask and answer each others' questions. We did three roundtable cycles with between 5 and 10 franchisees per cycle, which gave me the opportunity to sit down and help a total of 20-30 franchisees. It was fun!
During these roundtables, we had some really good discussions around culture, recruitment, retention, brand stability and growth. I learned more about them and the brand, as well as offered them some perspectives and new ideas from the outside.
The Key Benefit of an Advisory Board
Like many businesses, Big Frog has had a difficult year or so, but it wasn't just COVID that created challenges for them - they also suffered a big loss when one of their three founders passed away recently.
These types of upsets can be challenging for a business as it tries to navigate a path forward, and it is made much easier when a board of advisors is already in place. We've talked about it before, but it's worth repeating: the best time to have a board is before you need one.
There were important discussions that needed to take place - and they weren't the types of conversations a brand should be having with their franchisees. Because Big Frog has a trusted board of advisors that has served at the strategic level for so long, we were able to jump in and assist with the situation quickly.
If you don't have a board for your business, now is the time to start thinking about putting one in place. Or if you do already have a board, but they aren't showing up and making an effort to get to know your franchisees and brand, then maybe you need a better board! It may not be immediate, but I know that being there does add value - and that's why I'm there for my clients (and why I continue showing up).
Getting back to in-person conferences and events reinforced how much fun franchising is, and how grateful I am to make an impact. If you want to have a discussion about how an advisory board might benefit your brand - or are looking for a speaker or roundtable host for your next conference event - let's talk! I'd be happy to learn more about your business and how I might help you take it to the next level.