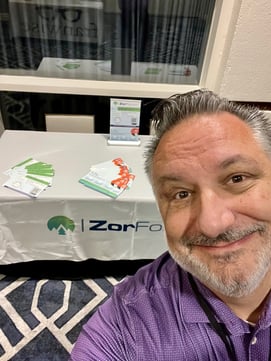 I am just back from the Franchise Business Review Franchise Summit event in Austin, Texas, and it was a great time! This was my second time participating in this event. There was great energy in the room, many people providing perspective insights and solid advice, and several great speakers too - tons of value and learning. There were plenty of inspiring moments and connections, a fun "Texas Tailgate" reception, as well as fundraising for the local animal shelter.
Franchise Summit Roundtable
During the first day of the FBR Franchise Summit, I had the opportunity to moderate a roundtable of 7 franchise professionals, where we discussed everything from training and utilizing franchisees to help better engage in the brand, franchise advisory councils, peer groups, mentor groups, and more. We discussed the disconnect between marketing and operations, which is a typical gap in many brands. We talked about multi-unit owners and how to build systems and training specific to support those folks. We spoke about motivating mature franchisees who might become complacent over time. We talked about how to support franchisees at different transitions, including:

- when they're new and onboarding

- when they're coming up for renewal
- when they are considering a sale of the business
- and other important points in their life cycle
CEO Executive Summit
I was also lucky enough to sponsor and host the CEO "Executive Summit" session with 22 franchisor C-Level professionals for 4 hours. To prepare for this, we sent this group a list of 30 topics, asking them to rank those most important, and we narrowed it down to eight topics. We started with the first three topics and then had a break for lunch, came back and finished up with two more before we ran out of time because of the value and depth of the conversation.
Franchise System Standards
The number one issue was enforcing system standards, which is a continuous challenge for most franchise systems. My comment to the group was "congratulations", because this shows you are mature franchise systems when this is an issue that you're dealing with. We talked a lot about separating the franchise agreement and the operating manuals and using those separately and properly, specifically for this situation. The franchise agreement stays the same, and the operating manuals evolve. That's where the system standards get defined and modified as appropriate over time.
We also discussed how to avoid these compliance issues before they become significant and what to do before the term "enforcement" becomes operational. The discussion included appropriate documentation and thoroughly tracking issues over time before you move to escalation or legal action. We talked about mediation, arbitration, and litigation and different legal approaches to solving more severe issues when they are unresolved. At the end of the conversation on this point, my comment was if you have compliance issues in your franchise, you have training issues, and the solution is training and more training, even if it is redundant.
Franchisee Financial Troubles
The second issue was dealing with financially troubled franchisees. There was extensive conversation around this issue as every franchisor wants their franchisees to be successful, and sometimes, it feels like we want it more than they do! We shared in-depth discussions on gathering unit-level financial information and, with these meaningful analytics and benchmarks, provide coaching and training to franchisees to enhance their opportunities for success.
Communication Best Practices
The third issue was communication best practices, which is crucial for franchise success. I shared my four-point strategy of weekly, monthly, quarterly and annual connections. The general idea is to tame the noise coming from headquarters to the franchisees, forcing the messaging into these four formats in an appropriate way, using them to build on each other and make the communication clear and consistent. Town Hall meetings are also a favorite communication method within a franchise network and system.
Related Article: Building a Successful Franchisee-Franchisor Relationship
In our CEO Executive Summit, we also shared thoughts about suppliers and vendors, what we like and don't like, and why. There were great points made about looking outside of franchising for new solutions in this area as well. We discussed joint employer issues and how they can be better managed with different approaches and solutions.
We talked about creating a career path for franchisee staff to grow into becoming a franchisee over time; this can be a great opportunity to leverage and empower those individuals who are great advocates at the unit level.
Overall, we used up the 4 hours quite effectively and could have benefited with more time if we had it. I'd like to thank all of those who were in the session and participated together, as it was a great collaboration.
I expect the FBR Franchise Summit will become a regular event, and I find it very likely to grow and expand every year. They organized a great event, which this year focused on operations and support, something every franchise brand needs to work on and continue to develop over time. I'll be looking forward to participating again in the future, and I hope to see you there!
If you are looking for support in your franchise, please reach out. Schedule a free 30-minute consultation, and let's talk!
---
John Francis of Johnny Franchise is an enthusiastic, engaging, and entertaining public speaker, advisor and franchise coach; he speaks from experience and the heart. He is the creator of the successful Franchise Lifecycle Program that will take your franchise to the next level. Franchising is in his blood, and his parents were true pioneers in the industry, turning their family haircutting business into a 1,000-salon franchise empire. He has been a franchisee and a franchisor and has a deep understanding of the issues both face. Connect with John, and you and your franchisees will learn how to look at your business in new, positive, and profitable ways.