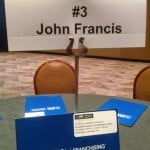 It's been about a week since I returned from this year's IFA Convention in Las Vegas. With record-setting attendance and a full schedule of activities, the 2015 convention was a jam-packed event that provided three solid days of invaluable networking and learning opportunities. Now that I've had an opportunity to reflect (and rest up), here are a few of my personal convention highlights.
The New Guys
With the economy picking up speed, the world of franchising has been going through a regeneration – and nowhere has that been more evident than at this year's IFA Convention. The exhibit hall was full this year, with a number of new suppliers being represented, and many in a "big" way. There were many new franchise brands present in the workshops and speakers sessions. The millennials have also started showing up in the franchise industry, adding a number of new, young faces to the crowd. While the "old guard" is still in power, it's fun to see the next generation participating and engaged. They seem very capable and professional – and there are a lot of them.
The Franchisee Forum
With standing room only, the Franchisee Forum had the largest number of attendees I've ever seen. I was the chairman of this committee five years ago, and while we did our part, this group has really improved itself and become much more effective. Seeing the momentum and leadership of this group was truly the highlight of the convention for me. They are really moving forward in a meaningful way, which is good for everyone!
New Members
I had a great time serving as an ambassador for a few new IFA members. This was a nice opportunity to meet new franchisors, franchisees and suppliers, as well as to share ideas and introduce them to other members at the event. Speaking of new members, the IFA saw record membership numbers in all three categories this year - It's great to see the growth!
Roundtable Facilitation
Another highlight was serving as the Roundtable Facilitator for both the Women's Franchise Committee Leadership Conference and the Franchise Relations Summit. I really appreciated the opportunity to help add value to the convention experience by working with other people in attendance. There are a lot of great ideas and everyone is willing to share and learn from one another.
Overall, I thought this year's convention was a good, well-organized event– a sentiment that was shared by many of the attendees I interacted with. Next year for 2016 we'll be in San Antonio TX - already looking forward to that.
I'm interested in your thoughts, as well. If you have perspectives on the conference you'd like to share, please don't hesitate to get in touch - I'd love to hear from you.
——
John Francis is a consultant, strategic advisor and keynote speaker who helps franchise organizations "see what they don't see" and achieve their highest levels of success. In his 25+ year career, John has worked as a franchisee, franchisor, investor and Board Member for brands and organizations such as Cost Cutters, PostNet, Sport Clips, Office Pride and the International Franchise Association (IFA). To learn more about John, visit www.johnwfrancis.com.
Copyright © 2015 by John Francis. All rights reserved