Come out, come out wherever you are…
After 18 long months, the game of hide and seek is over and people are starting to head back out into the world. With a packed conference schedule that has me traveling six times over the next four months, I'm experiencing this shift first-hand in the franchise industry. And I'm excited to get back out there again!
The Multi-Unit Franchise Conference was early this month at Caesar's Palace in Las Vegas, Nevada. The four-day conference is designed for multi-unit and multi-brand franchisees who want to grow and get the most value out of their businesses. There were plenty of good sessions and opportunities for idea sharing, with the keynote speaker being NASA astronaut Captain Scott Kelly - he shared some cool stories about doing the hard things, in outer space!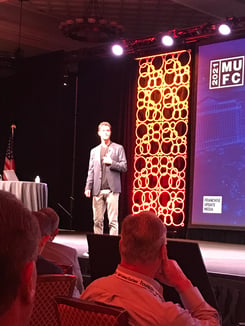 It was another great conference put on by the people at Franchise Update. Attendance was good and I had the opportunity to schedule time and meet with clients, new people and lots of vendors. It was a great time and exciting to be at an industry show again!
Office Pride also held their annual conference this month in Orlando. As a commercial cleaning business, they were deemed essential during the COVID pandemic and have grown quite a bit in the last year. Being there is a good time as well, and I enjoyed meeting with the franchisees, area developers, vendors and corporate team. It's great to see the growth!
After a break with my family to deliver my oldest daughter out to California for her first year of college, I'm preparing for yet another conference this month: the Springboard Emerging Franchisor event in Philadelphia, Pennsylvania. The event is focused on emerging brands that are in their early stages of growth. I've been asked to serve as a panelist at the event - I expect it will be a good conference and positive for everyone involved.
Many events were delayed due to COVID, so it's become a busy time of year all of a sudden! We're back to the in-person meetings and conferences, and I'm grateful for it. See you out there!