My mother, Flo Francis, passed away last month in December 2021 after a long battle with ovarian cancer. She was a wonderful woman who did a lot with her life - and who experienced a tremendous amount of success in her 85 years.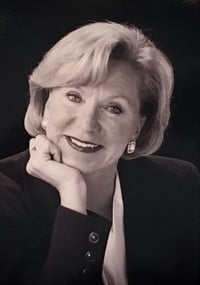 I think it's accurate to say that I owe much of my success - and who I am today - to her. Both my mother and my father were a big part of my life and had a great deal to do with my experience in the franchise industry. I like to say that I was born into the industry - and as the youngest son of Flo and Joe Francis, it was true! Growing up in this family was quite the adventure.
Many of you know my parents' story, but for those who don't: my dad was the founder of The Barbers Hairstyling for Men and Women, which became the first (or at least very early, we're not sure) in the modern salon industry to franchise. As the youngest of five children in the family, the business was already well established and growing quickly by the time I came along. And it wasn't just the salons, but real estate holdings and other investments, as well. At the time, I didn't realize how unique and special it was - I thought everyone worked for themselves and owned multiple businesses, and everything was a franchise.
As you can imagine, these were exciting times in my family. And it truly was a family business, with my parents working side by side together as a couple. My dad was out front as the charismatic leader and wild entrepreneur who had nothing but drive and motivation to succeed, and right behind (and sometimes beside him) was my mom, who brought class and grace to the business - she made all of his hard work look good! They created something special, a business and work culture like no other.
They say that behind every great man is a great woman and that was definitely true in the case of my parents. In fact, after Dad passed away in 1994, she took over as Chairman of the publicly-traded (NASDAQ) franchisor business. In that role, Mom improved the Board of Directors, led the smart and talented executive team with passion and grace, continued a remarkable culture and made the shift from an entrepreneurially-managed to a professionally-managed organization.
By the time she eventually exited the company in 1999, Mom had doubled the size of the franchise company from about 500 to 1,000+ units in just five years. The business had ten times the value, we had successfully expanded internationally and completed multiple acquisitions. Our shareholders, franchisees and staff were loyal and pleased - everyone won!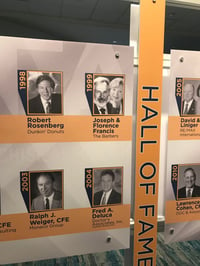 My parents were a team, and they were honored as such, being named to the IFA Hall of Fame in 1999. It's not something I talk about often, but it's a tremendous honor - and something that very few couples have achieved together. When I go to the IFA convention in a few weeks, their picture will be right up there on the wall with big names like Colonel Sanders, Ray Kroc and Conrad Hilton.
My mother was so proud of that honor - as was I of her and all of her success. The business that my parents were so instrumental in building became a launchpad for many other professionals in both the salon industry and franchising, many of whom have (and had) very successful careers and created real wealth and legacy from the opportunities and experience in the franchise system started by my parents.
I certainly owe a lot to my parents, in many ways. Being exposed to their work and businesses gave me a real and meaningful understanding of business and ownership from a very early age, all through my upbringing and beyond, and that has transitioned into a fulfilling and successful career in franchising. These days I no longer work in any stores, and am no longer involved in the day-to-day business of running a franchise, but I do truly love the industry and am passionate about helping others who want to get it right. I'm able to share my experiences, ideas and network with others who are looking to grow in the same way our family's business did.
By now serving as a board member, advisor, speaker, coach and consultant, I'm able to extend that franchise legacy that my parents started and help others find success in an industry that brought so much to my family.
To that end, I plan to attend the IFA Convention in San Diego next month to both pay tribute to my parents and connect (in person!) with colleagues and friends in the industry. I hope you'll join me in raising a glass to Joe and Flo Francis, who brought so much value not just to my life, but to the franchising industry as a whole. And Mom would want us to celebrate!
If you want to learn more about my mother and her life, see this newspaper tribute and this blog, https://www.caringbridge.org/visit/flofrancis, which was set up by my sister. Mom's passing was a peaceful and awful experience for me at the same time. This blog shares the entire experience well.
I also invite you to learn more about my family's haircare scholarship foundation which provides deserving cosmetology and barber school students with the financial assistance needed to achieve their dreams: https://www.joefrancis.com/.
If you're interested in learning more about my father and mother and the whole story about the family business, there was a book written a few years ago that you can find on Amazon: https://www.amazon.com/Joe-Francis-American-Entrepreneur-Journey/dp/1467026468
People have told me it's an inspiring read for entrepreneurs - and I lived it! If you read this, you'll know way more about my family and our business' ups and downs than you probably want to, and it's fun to share!
Thanks Mom and Dad - from a grateful and lucky kid!