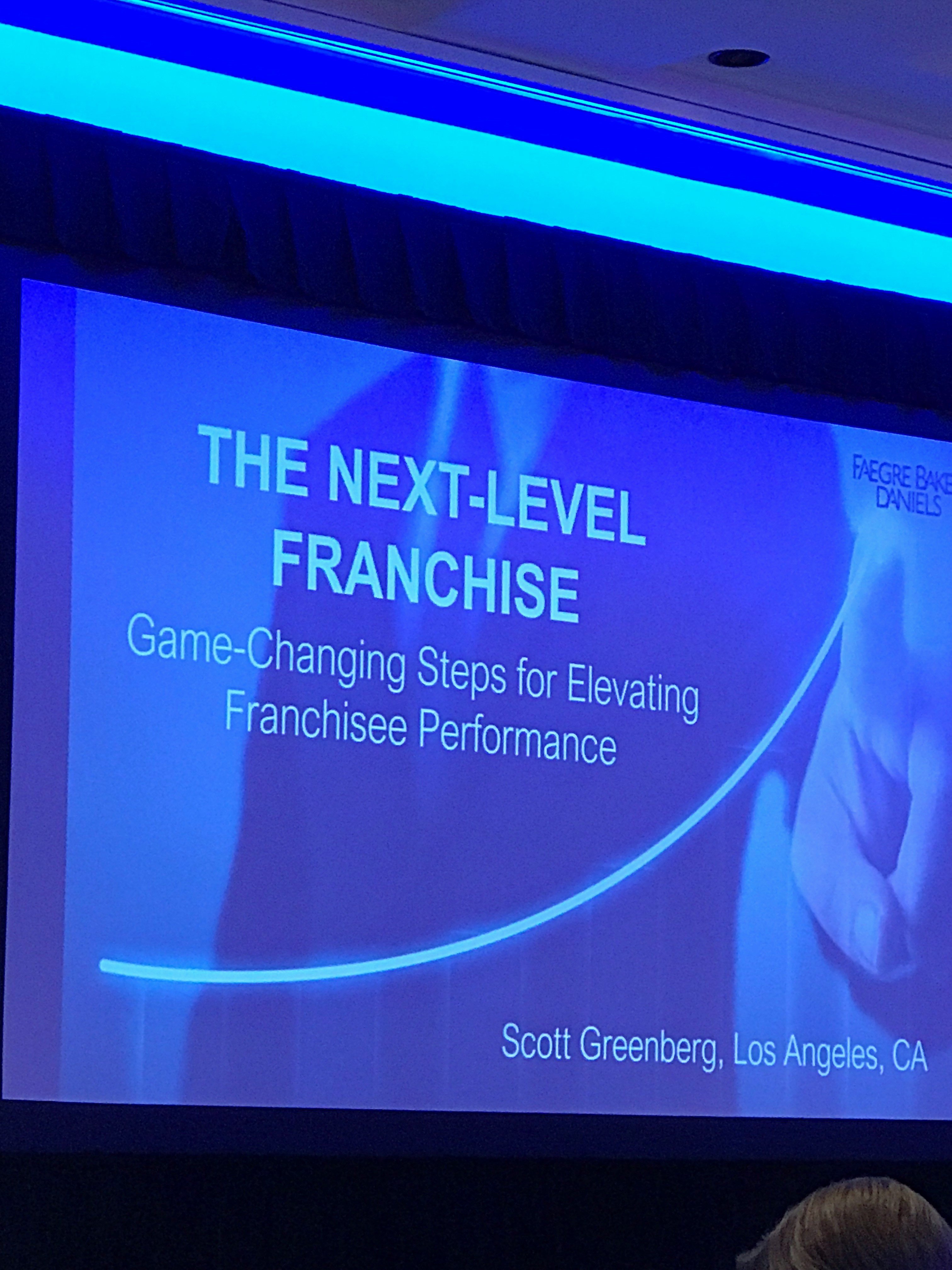 Last month people from all over the country gathered at what is considered by many to be their favorite franchise conference. The Faegre Franchise Summit, which hosts many high-performing franchisors and franchisees and sponsor supplier companies, was recently held in Minneapolis. Brian Schnell, lawyer at the firm Faegre Baker Daniels, organizes and leads this program and does a great job. He is willing to go so far above and beyond that he literally does a headstand (really), just to impress the people there and to demonstrate how far they're willing to go to make an impression! That's commitment! This year's Summit again lined up a number of important and impactful panel discussions and great networking opportunities. Here are some of the highlights to share….


Collaborative Leadership
The Collaborative Leadership panel included some focus on the best practices for franchise advisory councils (FAC's inside a brand), with a special focus on healthy engagement. What does healthy engagement look like inside of a FAC? How do you measure healthy engagement? The key takeaway here was knowing, managing and identifying the difference between an argument and a discussion. An argument is used to determine who is right. A discussion is used to determine what is right. Your advisory council and normal working process may have a mix of arguments and discussions but you want to lean towards more discussion and dialogue and away from arguments. Arguments get personal, while discussions are topical and strategic. Sometimes it's hard to tell the difference, and good facilitation is important to keep FAC's engaged effectively.
Building and Managing Growth
Keynote speaker Scott Greenberg was fantastic! He was a sponsored keynote speaker, and known to "...delves into the human side of business so that you foster connections." He talked about how to really build, manage and cultivate an environment of growth. He addressed everyone's internal mental hecklers, your own-in-your-head internal conversations and how they can keep you from doing what you need to do. Scott also introduced his program called the "coaching cure", which franchisors can use to measure a person's skill set and mindset and use those levels to better approach the situation at hand. His method then helps you to clearly determine what people need based on how they score in these areas, better to have consistent support programs across your franchise brand.
Franchise Industry Issues and updates were also discussed and shared at the event
IFA Chairman, David Barr, shared some interesting statistics about the industry's emerging brands:
ONLY 16% of franchise brands have more than one hundred units open.

84% of franchises have less than one hundred units, lots of growth ahead!

64% have less than 25 units, and

ONLY 4% have over 500 units open, that's a small number of the franchise universe!
That means there's a lot of small brands out there growing now, and the focus is on how to make sure those small brands stay healthy and grow effectively so they can grow beyond that 16%, and over 100 units open.
Other topics discussed included the legal issues around the regulations impacting franchisors, franchisees, and their employees known as "Joint Employer" issues. As well as a panel discussion, focused on industry issues and larger systems, analytics and how to manage the change inside of a franchise brand - too much for me to take notes, all good materials, and ideas!
Conclusion:
The FBD Franchise Summit is a great opportunity for discussions around changes in the franchise industry and networking opportunities among a small, very engaged group. This year's highlights include discussions around healthy engagement, growth management, industry stats and more. All of this with many thanks to the wonderful sponsors who make it possible to attend at no cost. I have attended every year, and it seems to only be getting better. THANKS to those who made it happen!! Glad to share and learn! Look for it next year, and I'll see you there!
If you'd like to talk about the benefits that come with having an organized advisory board for your business, please reach out I am happy to talk about it anytime.
[gravityform id="2" title="true" description="true"]