Just recently, I had the opportunity to be an "influencer" in franchising at the first ever FranConnect Influencer Discovery Day that took place back on December 18th and 19th. And I want to thank Keith Gerson, the President of FranConnect, for the invitation. This was my first time participating as an "influencer", and I did not know what to expect - it was worthwhile, quite interesting, even educational and a lot of fun!
Just a little bit of background about FranConnect...most everyone has heard of them in the industry, they are long term and totally committed to franchising for 18 + years...they support 700+ brands, 140,000 franchisees, known in at least 17 countries. Yes, they're very capable with a big and growing presence in the franchise industry.
I was already familiar with FranConnect software. I've personally been a user in franchise sales and development work, I've used it as a franchisee, and I've got multiple franchisor clients that currently use FranConnect software. It's not the least expensive option in the marketplace,, I know many of the others are also very worthwhile and offer different features and levels of complexity. Franchise technology for system management is key, and any system deserves to be looked at and considered when appropriate for a brand, which can be MORE THAN one time over the dynamic life of a franchise system.
I think FranConnect raises the bar for all of us, let's just say I was thoroughly impressed with FranConnect's latest technology that was introduced at this meeting. It was a demo and discussion and preview of their new platform called "Optimize".
The new "Optimize" platform is based on four components:
1. Planning
2. Measurement
3. Monitor
4. Take Action
Under each one of these components, they've got all the "nuts and bolts" that you would expect to gather information to set up scorecards and KPIs to report, then used to coach and to communicate with stakeholders. All of this is integrated into each component. What's interesting about the new platform is it collects data from any various point such as the point of sale, from your various people, from your specific business and from your brand, and then puts it all into context. And then the magic is - the platform provides actionable analytics, called "Playbooks" and makes them assignable and accountable for the people involved.
The Playbooks are the best output from the analysis; it's an action plan and is well beyond just an old-school to do checklist. It allows for specific unit level action plans, specific to the situation at hand. It includes everybody from the franchisee owner, the unit or area manager, and those up and down to the corporate support team. People can be held accountable for doing the right thing, at the right time and in the right sequence. Optimize has a command center dashboard, which is unique (controlled visibility) to each user. What's really unique to this software is it's integrated for both franchisor and franchisee to truly collaborate and work on the real needs specific to each franchise.
Why am I telling you all this? For me personally, many of you know my mission in life is franchising done well. This Optimize platform allows an organization, a brand, corporate and franchisee and everyone in between, to be aligned and accountable for what needs to happen for that owner's benefit. Very powerful. It allows for predictive analytics. It allows for seasonable variables. It's adjustable on the fly. Already I can see how this software is capable of creating a franchise competitive advantage.
I walked away with a lot of useful information from this new software and I'm happy to point you to the right contact to learn more about it or request an online demo if you're interested. You can even look up the FranConnect team at IFA 2020 in Orlando in a few weeks.
I really enjoyed myself at this meeting, being around industry friends, made some new friends, and I came home with a really cool name tag (pictured below), And we had an opportunity for a new perspective on and appreciation for coffee creamer containers…(an inside joke!)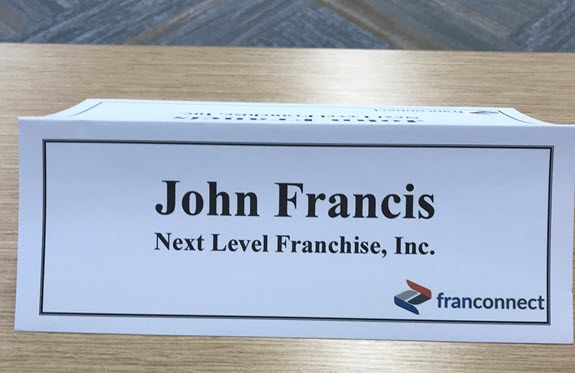 It's fun to see and learn about new things in franchising, I'm happy to be considered a resource and point of influence in the industry. Glad to share this with you, and I expect you'll see and hear more about FranConnect's Optimize platform, and I'll bet many of you will be using it before long, it's the new thing! Thanks and see you at IFA!
[gravityform id="2" title="true" description="true"]